Everything you need to do to take care of your Smart Cabinet
Maintenance is a very important job to keep into account every day to keep the BCN3D Smart Cabinet in good condition and always operating at its maximum capacity.


In this article, you will find what activities must be carried out so that BCN3D Smart Cabinet has adequate maintenance and with adequate frequency.
To help you with the maintenance of the printer, BCN3D has a maintenance kit with the necessary tools to carry it out. You can get the kit on our website: BCN3D Maintenance Kit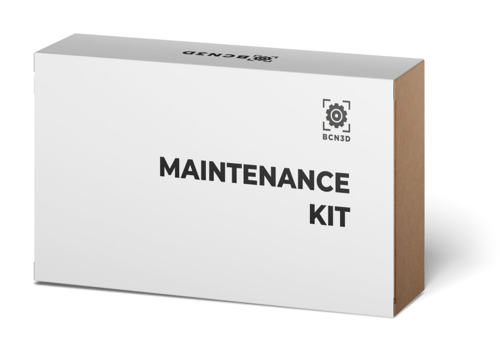 Table of contents:
---
General Maintenance
In general, there are many recommendations when it comes to maintenance, but there are some that you should always keep in mind to extend the useful life of the product.

A very important tip is to always keep your system dust-free and running in a cool, dry place. We suggest that the system operates in an environment with temperatures between 15ºC and 30ºC and relative humidity below 70%. Regarding the filaments, we advise the spools that are not currently in use are always stored inside the dehumidifier chamber, which maintains a controlled environment with relative humidity below 40%
Activity
Frequency
Tools
Clean the system in general
When necessary
Cloth
Clean the sealing rubber.
When necessary
Cloth
Clean the inside of the dehumidifier chamber

When necessary (please note that is not recommended to open the chamber if not necessary, to maintain the correct humidity conditions)

Cloth

Vacuum cleaner

Clean the wheels
When necessary
Cloth
Check the wheels break
Monthly
-
Check the conditions of the bowdens tubes
Monthly
-
Lubricate the guides of the dehumidifier module
Quarterly
Grease
Lubricate the guides of the tool tray
Quarterly
Grease
---
Firmware update
In BCN3D we want you to have a great experience, and to achieve this, we continually work to create new software updates for our products.

To ensure that the system is equipped with the latest functions, it is recommended to keep the software updated to the latest version.

Wireless updates are displayed on the printer screen to notify you when a new version is available, only when the printer is connected to the network.
It is also possible to do it manually: visit the Knowledge base and follow the instructions.
Need more tips? Check out our forum community for more info.
It's important to keep your printer in good shape to make the most out of it. In this chart, you can find a list of the extruder maintenance procedures and how frequently these should be done.

Take your e-waste to a certified recycler. Check how we do it in BCN3D.
You can help improve the BCN3D Knowledge Base.
If you feel there are guides that we are missing or you found any error, please use this form to report it. Report form :)