Find the software and firmware version running your printer
---
---
1. Click the top right button to access the printer's information menu. In this menu, press the Unit Information button.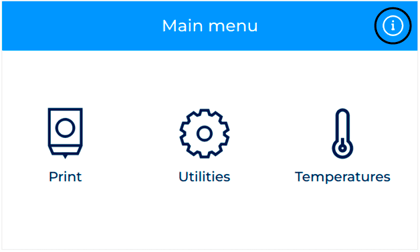 2. Here you can find the version of the Operating System, Software, and Firmware.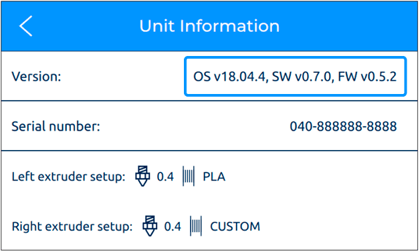 Conclusions
If you want to know what is the serial number of your printer you can check the Unit information menu or the label that is attached to the left side of the inner cover.
Need more tips? Check out our forum community for troubleshooting help.
It's important to keep your printer in good shape to make the most out of it. In this chart, you can find a list of the extruder maintenance procedures and how frequently these should be done. Maintenance Plan.

Take your e-waste to a certified recycler. Check how we do it in BCN3D.
You can help improve the BCN3D Knowledge Base.
If you feel there are guides that we are missing or you found any error, please use this form to report it. Report form :)