In this article we are going to explain the differences between BCN3D water-soluble materials
---
---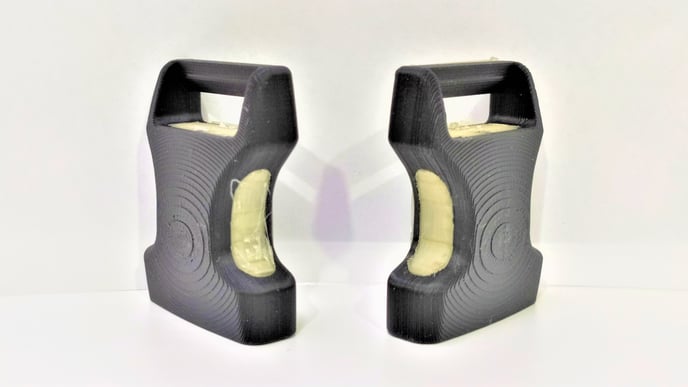 BCN3D has its own material portfolio that includes two different options for soluble supports, PVA and BVOH.
PVA or polyvinyl acetate is the most traditional option when it comes to soluble supports. It is widely known as the first soluble material that showed up. However, the appearance of new 3D printing materials and their classical printing issues has driven the creation of new soluble materials that adjust more to these problems. One of those is BVOH, a copolymer of vinyl alcohol with some features that make it compatible with much more materials in an easier printing way.
Solubility
The most characteristical feature of these materials is the possibility of dissolving them in water. But the first difference between them is that BVOH dissolves way quicker in water than PVA. The remains left in the print are also lower in BVOH.
You can check this timelapse on the dissolution time of both materials in water.
This image shows the time comparison and how the water temperature affects the dissolution time.

Compatibility with other materials
It is true that PVA is one of the most common materials in 3D printing. Nonetheless, this doesn't mean that it is compatible with the most used materials. ABS, PET-G, and Nylon are examples of materials with which PVA is not compatible. BVOH on the other hand is compatible with almost all BCN3D filaments.
You can check the differences of compatibility between both materials in the chart below: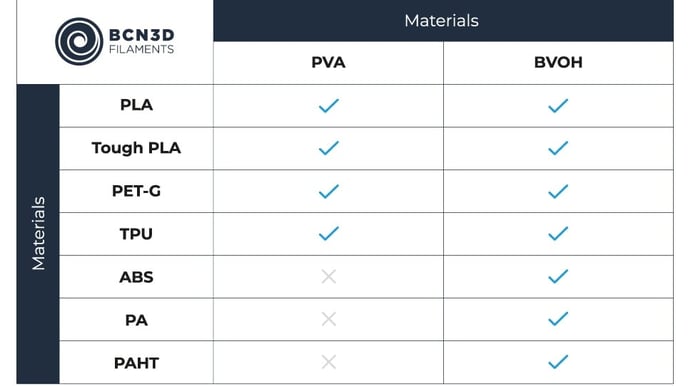 Even though the compatibility is experimental, the adherence between PVA and these materials is quite difficult.
Humidity absorbing capacity and degradation
All water-soluble materials have a big capacity for absorbing humidity and degradation with time. Depending on the material, the speed can change drastically.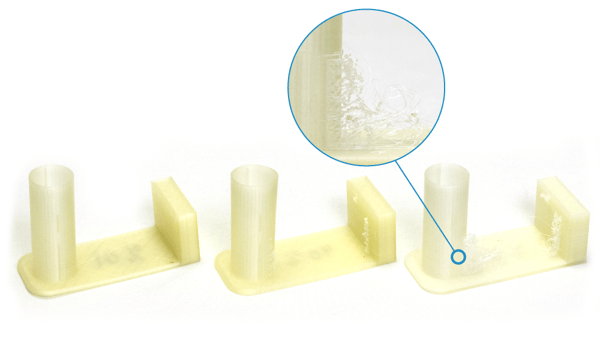 PVA has a big humidity absorbing capacity because of its thermal properties, it degrades easily so it's not recommended for long printing times. BVOH also has a big absorption speed but as it has big high-temperature tolerance it degrades less. It can be until two days printing without any problems in closed models such as the Epsilon.
It's recommended to previously dry both support materials securing the best results and avoiding any kind of issue related to humidity. Check it out on this article: Printing issues related to humid filaments
Smart cabinet arises as a solution to this big support material issue. It ensures the optimal temperature and humidity conditions for long printing times.
Printing difficulties
Each material has its own difficulty in being printed but it is well known that PVA is one of the hardest to print.
PVA has three main problems. The first one is stringing, which clogs easily the hotends and can cause underextrusion. This makes PVA printing really hard when you consider every printing parameter such as the printing time or its humidity.
In this case, BVOH is better than PVA because of the low probability of stringing which makes extrusion easier, as you don't have to change any parameter to solve this issue and ensure the hotend does not clog.
In the following articles you'll find some tips and tricks to print both materials:
You can buy BVOH and PVA in our shop: BCN3D BVOH and BCN3D PVA
Need more advice? Check out our community forum for more information like this one.
It's important to keep your printer in good shape to make the most out of it. In this chart, you can find a list of the extruder maintenance procedures and how frequently these should be done.
Maintenance plan (Epsilon Series)
Maintenance plan (Sigma Series)
Maintenance plan (BCN3D Sigmax)
Maintenance plan (BCN3D Sigma)

Take your e-waste to a certified recycler. Check how we do it in BCN3D.
You can help improve the BCN3D Knowledge Base.
If you feel there are guides that we are missing or you found any error, please use this form to report it. Report form :)