The following tips will help you to improve the quality of your Tough PLA printing to fully get the most out your filament.
---
---
Note: This article contains advanced information regarding Tough PLA. The default settings for our BCN3D Tough PLA have been tailored for good quality and reliable results, and are fully tested by our laboratory. These tips complement those settings to ensure the best quality in printing with Tough PLA.
1. Tough PLA Introduction
Tough PLA is an easy-to-print material with very good surface quality. Here are some tips that will help you in printing Tough PLA.
Tips: Take a look at the material compatibility list. You will find which materials you can combine in dual printings with Tough PLA:
2. Tips to improve Tough PLA printing
Tip 1: Get an even First Layer
Make sure that your printing surface is well-calibrated before printing. This should be done once a week and after the printer is transported. Click on your printer for more information on this process.
Tip 2: Make it stick well
To achieve the best results, we recommend that you to set the printing surface temperature to 60-70ºC. This makes Tough PLA melt just a bit to obtain a shiny, smooth look.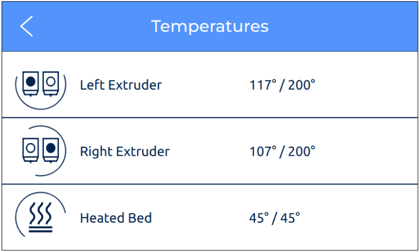 If you're using the Epsilon, there's no need to heat up the bed as it is preferable to have a bed temperature below 35ºC. And, you're still guaranteed to have a good finish at the base.
Make note that with whichever adhesive you choose, the prints will be easy to remove from the printing surface once it's cold.
It is of paramount importance to let the printing surface cool down before removing the print. This way Tough PLA is prevented from ripping off the glass. Make sure to remove the prints properly and avoid tearing the printing surface.
Tip 3: Extrusion pieces of advice
Tough PLA is a bit different from other 3D printing materials. Its primary difference is that it is extremely sensitive to high temperatures. It should therefore be crucial to have a proper cooling when printing with it.

Taking this into consideration, we can say that minor printing temperature changes (both in the hotend and the environmental temperature)can cause a huge difference in the printing quality of Tough PLA. It is best to maintain an even room temperature of 20-25ºC and to print Tough PLA at its optimal temperature as advised by its distributor. In the Epsilon, it's optimal to have a low Bed Temperature to prevent the Build Chamber from heating too high
If for some other reason, you prefer to print with other Tough PLA brands, you will probably have trouble and it's possible that you will experience a range of issues as it is normal for every brand to use different additives that can change the printing properties of the filament. If you spot underextrusion or overheating issues, the best thing to do is to ask the manufacturer about the recommended settings for that particular filament.
In any case, you can make a new profile and find the optimal temperature by printing a Temperature Tower and changing the Printing Temperature in 5ºC increments during the print job.
Tip 4: Store Correctly
Store the filament in a cool, dry environment. If possible, store it within a zip lock bag and away from UV rays. This will extend its working life drastically. An even better option is the use of the Smart Cabinet, compatible with Epsilon series models. Its filament humidity control improves the printer's performance, maintaining optimal conditions for the material. In addition, it has an uninterruptible power supply system to protect your work against any situation, preventing any loss from power outages.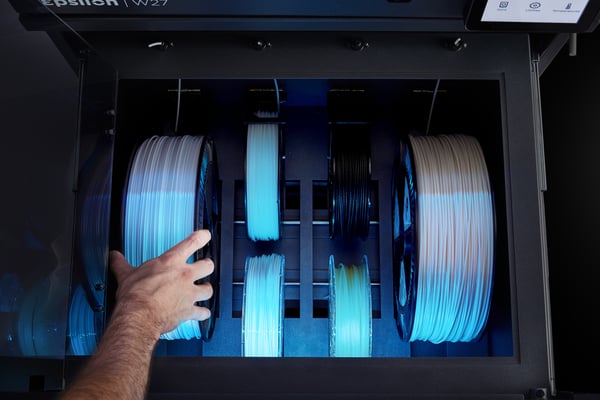 Conclusions
Properly store in a cool and dry environment.
Set the printing surface temperature to 60ºC in open printer models and 40ºC in enclosed models.
It's important that the first layer comes out even to prevent accidents.
Let the printing surface cool down before removing the print