Learn More about This Parameter:
Avoid printed parts when moving
Start the layers with the same parts
---
Combing Mode

The combing mode modifies the way the head moves between the printed areas of the part. Depending on the option you choose, you can acquire the following results:
All: The head will move over the part, which can cause longer trips but reduces the need for retractions.
No Skin: The head will avoid rolling over the top and bottom layers where possible. Only when the fill is printed will the head be able to move over the part.
Off: This option will prevent, whenever possible, the head from moving over the printed parts of the model.
Recommendations:
---
Avoid Printed Parts when Traveling


By activating this option, the print head will avoid printed parts when moving. When the shortest path between two points in the print cannot be reached, the head will move around the part.
By preventing the nozzle from coming into contact with parts that have been already printed, the possibility of having surface defects or mixing of materials if reduced.
Note: To use this setting, the combing mode must first be activated.
---
Z Hop

By activating the Z-Hop, the surface will go down each time a retraction is made, this way the print head is separated from the part while it moves.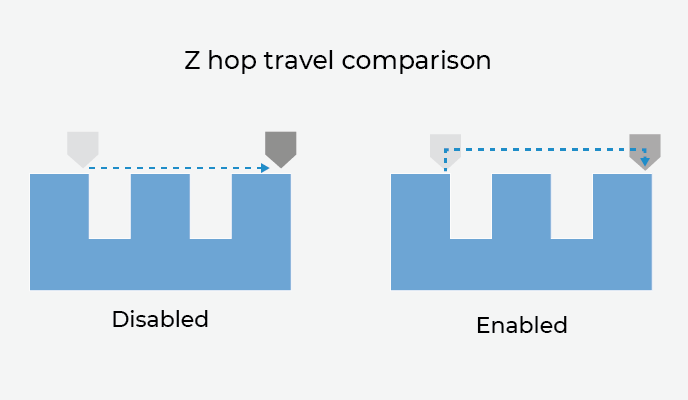 Height of Z Hop: the distance between the nozzle and the piece.
Z Hop after the Purge Tower: When this option is activated, a jump will be made between the purge tower and the part. This way, material remains are avoided on the outside of the piece.
Z Hop on Layer Change: the jump made when the head moves to make the next layer. The possibility of damage to the print layer is reduced.
Z Hop after Extruder Change: a jump made when there is an extruder change. This way the remaining material will remain on the part.
Height of the Z Hop after Extruder Change
The Z-Hop complements the retractions to reduce or eliminate the remains of material that remain between the piece and the nozzle. To learn more about retractions settings, visit the following article: BCN3D Stratos: Retractions
Do you need more advice? Check out our forum community.
It is important to keep your printer in good condition to get the most out of it. In this chart, you will find a list of maintenance procedures and the frequency with which they should be performed.
Maintenance plan (BCN3D Sigma)
Maintenance plan (BCN3D Sigmax)
Maintenance plan (Epsilon series)
Maintenance plan (Sigma series)

Take your e-waste to a certified recycler. Check how we do it at BCN3D
You can help us improve BCN3D Knowledge Base.
If you think we are forgetting a step or you find an error, please use this form and let us know. :) Form