This article is part of our guide on how to perfect the brackets. If you want to know more about perfecting support structures or have missed any of the articles that make up this guide, visit the links below:
How to properly configure and print the supports
There are several ways to save material and time when printing supports. The following tips will help you with this task.
Table of contents
Orient the model to reduce supports
Divide the model into several parts
Infill gradual steps and steps height
---
Positioning the Model to Reduce Supports

The base of the model and the cantilever angle influence the amount of supports that are generated. The most recommended positioning is to use the face of the model where most of the details grow in the direction of the Z-axis as a base.
Click on the following article to learn more about how to position your models: Orientation matters
---
Support interface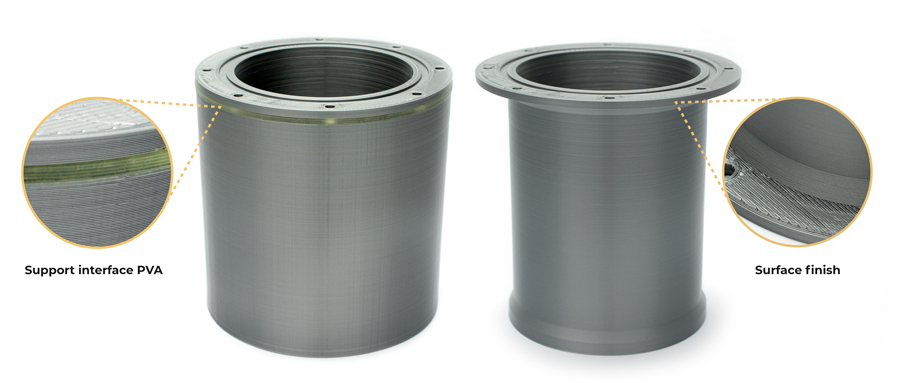 One way to save support material and printing time is by configuring the media interface. The support will be made of two parts, the support base, which will be made of the same materials as the part, and the material surface, which will be in contact with the part and will be made of soluble material.
In this guide, we explain how to configure the support interface: Optimize water-soluble materials
---
Dividing the Model into Several Parts

Dividing the model into parts that do not require supports to be printed is an excellent solution to save material. In this article, we explain how you can cut the model from the design program: Split the model in multiple parts.
---
Infill gradual steps and step height
To reduce the amount of material needed to build the support, infill steps can be used. This causes the support structure to vary in density as they approach the printing surface, having half the density for each step.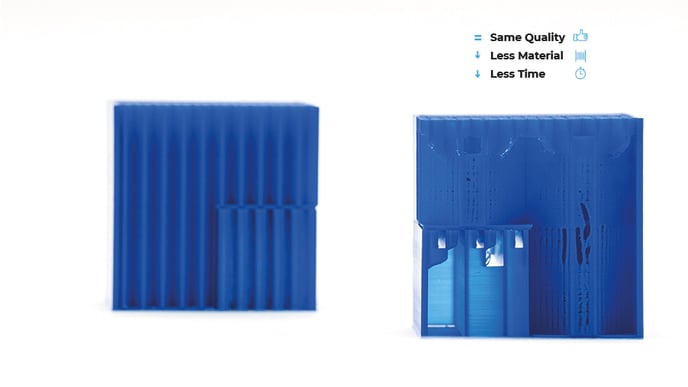 It is recommended that the steps have a minimum height of 3mm to prevent the supports from breaking.
Do you need more advice? Check out our forum community.
It is important to keep your printer in good condition to get the most out of it. In this chart, you will find a list of maintenance procedures and the frequency with which they should be performed.
Maintenance plan (BCN3D Sigma)
Maintenance plan (BCN3D Sigmax)
Maintenance plan (Epsilon series)
Maintenance plan (Sigma series)

Take your e-waste to a certified recycler. Check how we do it at BCN3D
You can help us improve BCN3D Knowledge Base.
If you think we are forgetting a step or you find an error, please use this form and let us know. :) Form